What is Galaxy Fight Club? (GFC)
Galaxy Fight Club is first and foremost a MOBA with Cross IP, NFTs and Play & Earn in mind. The current game itself is comparable to Brawlstars.

Its Play & Earn concept is different than most, as it intends to not extract value to players but rather give players more possibilities in the ecosystem, for this Blockchain Tech and NFTs are used.

The Cross IP drives value to partnered collections, by implementing their characters into the game, without weaken the ecosystem by enabling them to extract value. Rather they'll invest over time, either financially or by playing the game, to gain more power in the ecosystem.
Newest Trailer
Gameplay
Downloading the game
iOS App Store (Apple)
Google Play Store (Android)
Funding Round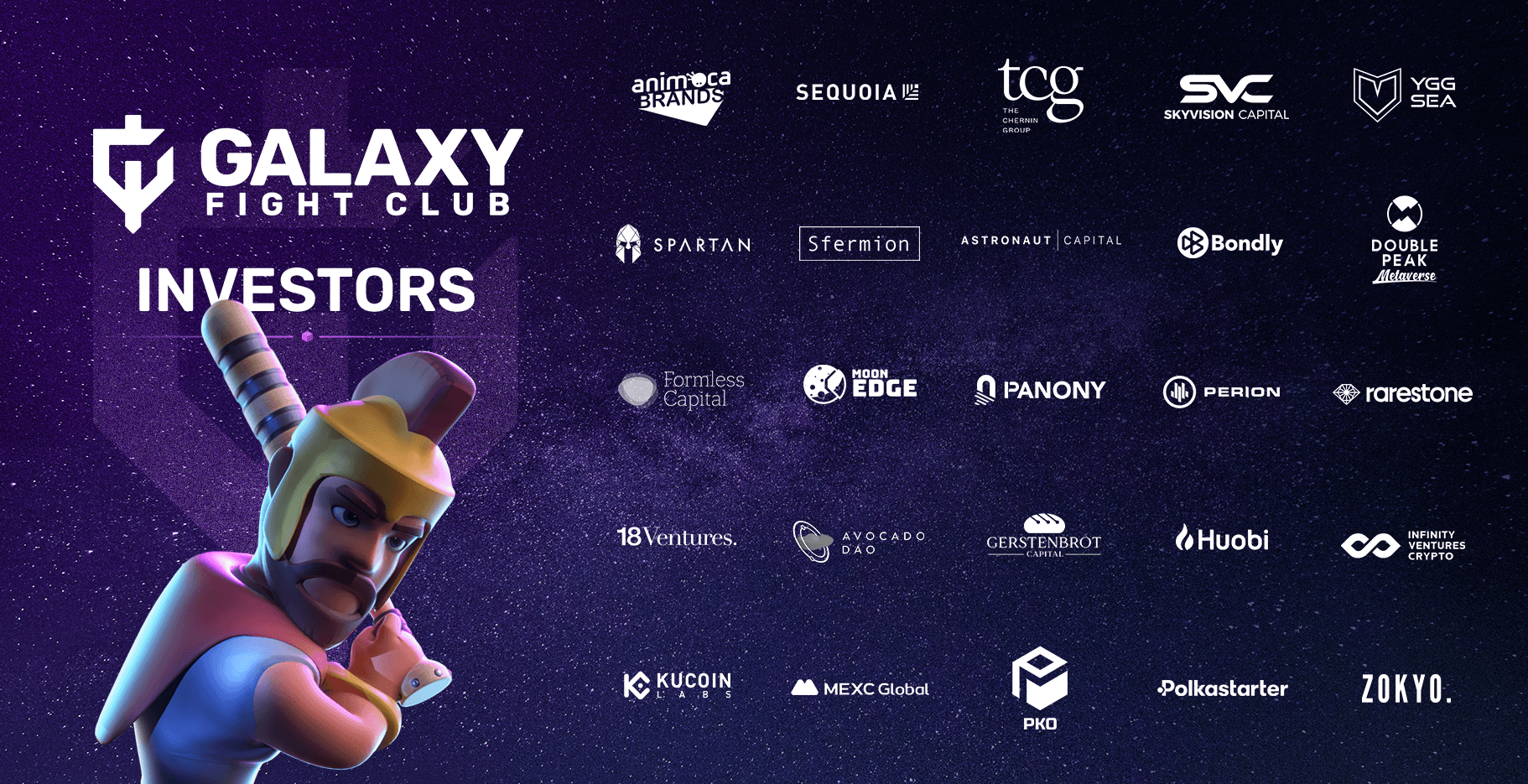 Upcoming Events
21. May 2022: GFC Qualifier Cup
June/July: Cross IP Tournament (including Cyberkongz, Illuvium etc) with a 300k dollar price pool.
After P2E release: Weekly 2 ETH tournaments
Roadmap
NFT Collections
Galaxy Fighters are characters that are currently playable in the open beta.
Every race has its own ingame model, and carried weapons are used ingame.
Tiers are currently responsible for the amount of GCOIN earned.
In a future update, carried armor will have benefits in terms of fighter strength ingame and changing the ingame model. Any other additional trait will have non visible benefits ingame.

Also Galaxy Fighters are the only way to train on average stronger 2nd Gen Fighters.
Death Robots are a special race of Galaxy Fighters, these were given to early adopters which were helding all races at the time, currently these are ingame the strongest race.
2nd Gen Fighters are trained with a Genesis Fighter, and by burning GCOIN and 4 Weapons. Depending on the rarity of the assets used for training the probability of training greater fighters is determined.

These fighters, implemented ingame at a later point, will be stronger on average than the Genesis Fighters, but won't be able to accumulate GCOIN or train future Fighters.
Genesis Weapons are used ingame and required for partnered collections which want to participate in the Play & Earn concept.

Some of these weapons have unique standard attack animations and most of them have unique ultimate attack animations. Including heals, slows, dot, aoe etc, adding a lot of strategic depth into the game.

At the end of the article you'll find some ingame footage of different weapons.
Other Collections
GFC Collabs (Illuvium already integrated ingame)
GFC Mystery Items
GFC <> BYOPills (Powerups with long cooldown)
GFC Companion
GFC Genesis Keys (Lootbox for Genesis Weapons)

GCOIN
GCOIN is the native currency for the GFC ecosystem.
Its used for training 2nd Gen Fighters, upgrading Weapons, participating in tournaments and much more in the future.
Current Costs are:
Forging: 500 GCOIN
Training: 800 GCOIN
Most of the liquidity is currently on SushiSwap (Polygon).
Contract address is 0x071AC29d569a47EbfFB9e57517F855Cb577DCc4C.
Coinmarketcap, Coingecko.
As you can see, most of the GCOIN supply will be released over time by the Genesis Fighters, thus most of GCOIN will be in hand of the players.

Maybe you are afraid to get dumped on by Investors who bought in the private or seed sale, but they have a great vesting schedule!
Play & Earn
One of the key concepts around GFC is the Play & Earn aspect.

Earn GCOIN and Key Shards by playing the game. Key shards can be used to create Lootboxes, opening them will require GCOIN, these can contain Genesis Weapons.

In order to earn these Key Shards, you will either need a GFC Fighter, or a NFT from a partnered Collection combined with a Genesis Weapon.

These partnered collections are not only:
BAYC, Cyberkongz, KManu, GFC Collabs, Champs Only

More extensive information can be found in the whitepaper.
Partnerships
Links
GFC Whitepaper
GFC Medium
GFC Discord
GCOIN Chart
GFC Stats (Characters & Weapons)
GFC Weapon Videos Playlist
Weapons Gameplay